The Amazing Avocado…
May 17th, 2013
Last month, while enjoying the sand and sun in Puerto Vallarta, Mexico I could not help marvel at the abundance of avocado in local markets and restaurants. And, what better place to enjoy this amazing little fruit than in the place it is grown? After all, each little "alligator pear" was perfectly fresh, creamy and delicious – and required no waiting-to-ripen on my kitchen counter. A few days later, I had added three new "mental recipes" to my repertoire: Hand-pressed guacamole with jicama slices, for dipping, grilled salmon with mango-avocado salsa, and avocado-chocolate pudding. All were simply delicious and are worth interpreting in your own kitchen.
This enigmatic fruit is no doubt a nutrition powerhouse; however, it is often polarizing and the subject of debate in nutrition circles. One half-cup of mashed avocado has 192 calories and 18 grams of fat. Of those 18 grams, 13.5 grams come from heart-healthy, mono- and polyunsaturated fat, and the remaining 2.5 grams come from saturated fat. One half-cup of mashed avocado also provides 15% of your daily vitamin E, 18% of folate and 34% for panthothenic acid. It's a bonus to learn the same serving also provides a healthy 8 grams of dietary fiber. That is helpful in the quest to get the 25-35 grams of fiber you need, every day.
The bottom line, avocado is definitely a food to include in your diet. Just remember, the calories, and fat – regardless if it's mostly the heart-healthy type or not – can add up fast. Enjoy avocado in season and in creative dishes that let it shine.
Today I stopped by CTV Edmonton Morning Live to share a few ideas and recipes with the you and the crew. I hope you enjoyed. Here are a couple extra recipes.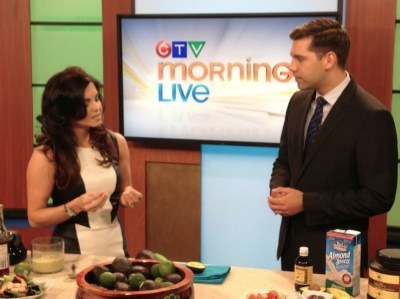 Guacamole with Jicama Slices
Ingredients:
Jicama
Jicama, peeled and sliced
Guacamole
3 ripe avocados, flesh only, mashed
Juice of two limes
1 medium tomato, finely diced
1 medium sweet onion, finely diced
1-2 jalapeno, seeded, finely choped
2-3 Tbsp. cilantro, finely chopped (optional)
Salt and pepper, to taste
Directions:
Peel and wash jicama. Cut into slices. If you do not have jicama you can use any vegetable you like, zucchini, pea pods, carrots or bell peppers would be great. Cut avocado and remove pit. Scoop flesh and add lime juice – mash in bowl with the back of a spoon. Add remaining ingredients and gently stir to combine. Serve immediately. This guacamole is also delicious in breakfast burritos, on toast, or scrambled eggs, or on a grilled chicken burger. I am hungry just typing that.
Grilled Salmon with Mango-Avocado Salsa
Ingredients:
Salmon
2-Salmon filets
Red pepper flakes, to taste
Salt and pepper, to taste
Salsa
1-Mango
1-Avocado
Juice of one lime
2-3 Tbsp. cilantro, finely chopped
2-3 Tbsp. red onion, finely diced
Directions:
Preheat grill. Spice fish. Grill salmon for 4-6 minutes per side.
Prepare and combine salsa ingredients in a bowl.
Serve salmon, topped with salsa with a side of jasmine rice, or whole grain rice of choice.
Avocado-Chocolate Pudding
My friend and colleague Maira has recently started a blog for healthy families. She makes this unique and delicious chocolate pudding at home. You can to.
http://www.nutritionbymi.com/1/
Source: Leslie Beck – www.lesliebeck.com
More Information:   California Avocado Commission – www.avocado.org