Planning a Budget-Friendly Holiday Menu
December 22nd, 2016
The holidays are here and if you're like me you can't wait to enjoy a feast of family favourites. The dishes I most enjoy are not only delicious and nutritious, but also budget-friendly. It's not Christmas without my Grandmother's Partridgeberry-Apple Salad or Mom's Butternut Squash Gratin. What's your favourite holiday dish? Please share, on Twitter: @FoodFirstRD.
This week, I pulled together this menu based on what I had on hand, what was in season and what my family was sure to enjoy. Crunchy Sweet-Chili Chickpeas, Roast Turkey with Sage & Clementine, Cranberry-Chia Compote, Butternut Squash & Parmesan Gratin, Green Beans with Almond & Lemon Brown Butter and Candied (Broiled) Grapefruit with Ginger Cookies. Each recipe is shared below. Tune in tonight at 5pm for a CTV Edmonton News segment on this very menu and the tips herein.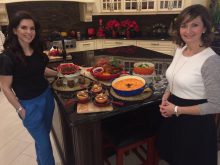 Whether you're making a holiday meal for small family, or creating a spread for the entire Griswold crew, I hope the following tips will ease your "chef stress." If we plan ahead, shop smart and cook creatively we can eat well, this holiday season and all year through, while staying on a budget.
Tip #1: Plan Ahead
The best way to save at the supermarket is to plan ahead and shop with a list. This seems like a no-brainer, but sometimes this gets lost and when we're busy we have to create time to plan ahead. Even 10 minutes of pre-planning can help save dollars.
Take a quick inventory of your pantry, fridge, and freezer so you know what you have on hand. Then, based on what you already have, decide on recipes to make. Get creative! Write down the ingredients you need and do your best to stick to your list.
Emily's Grocery List:
Turkey:                                    $12.51
Butternut squash:                 $2.83
Fresh sage:                             $1.98
Canned chickpeas:                $1.58
Red grapefruit:                       $5.98
Greek yogurt:                         $3.98
Fresh cranberries:                 $1.68
Evaporated milk:                    $0.98
Total:                                       $31.52
If you're new to menu planning and would help getting started click here.
Tip #2: Befriend the Bean
Beans, peas, lentils and chickpeas cost pennies compared to meat, poultry and fish, yet still pack a protein punch. Plant-proteins are a great way to add fiber and satisfaction to your meal without breaking the bank.
If you'd like to expand your repertoire using pulses and explore recipes click here.
I always have canned chickpeas on hand. This made this appetizer, "Crunchy Sweet-Chili Chickpeas" a quick decision. Canned chickpeas are $2 or less. Boom.
Inspiration: Crunchy Sweet-Chili Chickpeas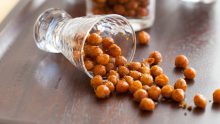 Good source of potassium, folate and fiber. Super economical and easy to prepare. Personalize with any low-sodium seasoning blend you prefer.
Ingredients: (Makes 4 cups; serves 6+)
2- 540 ml cans chickpeas, rinsed and drained
2 Tablespoons vegetable oil
2 Tablespoons chili powder
2 Tablespoon coconut sugar
½ tsp. garlic powder
Directions
PREHEAT oven to 400˚F.
COMBINE all ingredients in medium bowl and spread onto parchment paper or greased cookie sheet.
BAKE for 30 minutes. Stir.
BAKE another 30 minutes, stirring every 5 minutes. Serve warm as an appetizer, or allow cooling, and add crunchy chickpeas to salad, air-popped popcorn or soup.
Tip #3: Shop Seasonally
Seasonal fruits and vegetables are often more nutritious and affordable than their out-of-season counterparts. Not to mention more delicious! Root vegetables like potatoes and turnips, winter squashes, Brussels sprouts, cranberries and citrus fruits are all great choices to help stretch food dollars this time of year.
Turkey is readily available this time of year making it a very economical protein. Confession – I have 3 turkeys in my freezer. If you have the room, stock up. Cook turkey towards the end of a month when you need a week's worth of meals.
This year, I had frozen cranberries on-hand leftover from Thanksgiving, as well as Parmesan cheese, slivered almonds and mandarin oranges. From that I was able to create a shortened must-have grocery list and make the following:
Inspiration: Cranberry-Chia Compote
Along with a kick of tang, cranberries are bursting with vitamins A, C and antioxidants, plus 5 grams of fiber per cup. In this recipe, chia seeds provide a serious boost of omega-3.
Ingredients: (Makes 2 cups; serves 6+)
12 ounces fresh cranberries (about 3 cups)
Juice of 1/2 a clementine
1/2 cup honey
3 tablespoons chia seeds
Directions:
IN a small saucepan combine cranberries, lemon juice and honey.
STIR gently and bring to a boil, reduce heat to a simmer and cook for 5 to 6 minutes, until berries are warm and bursting.
ADD chia seeds and continue to cook for an additional minute, until thickened.
COOL and store in the refrigerator in an airtight container for up to 3 weeks. Enjoy with roast turkey, with cheese and crackers or jazz up plain Greek yogurt.
Inspiration: Butternut Squash & Parmesan Gratin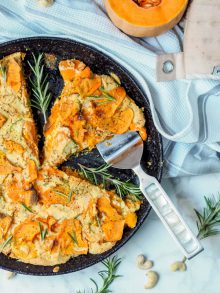 Gratin is usually loaded with butter and cream, this lightened version is healthier and flavorful, you won't miss all the cream. Butternut squash are in season, economical and delicious. Add a boost of vitamin A, vitamin C and fiber to your holiday menu with this delicious side.
Ingredients: (Makes 6 servings)
2 pound (1 medium) butternut squash, peeled
½ cup 2% reduced fat milk. I like to use 2% evaporated milk.
2 garlic cloves, minced
1 small onion, finely minced
1 tablespoon chopped fresh rosemary or dill
1/3 cup fresh grated parmesan cheese
¾ teaspoons salt, divided
Freshly ground black pepper, to taste
Cooking spray
2 tablespoons unsalted butter
½ cup panko bread crumbs or crushed GF cracker of choice (optional)
Directions:
PREHEAT oven to 400 degrees.
SLICE butternut squash into 1/4-inch thick slices. You can do this with a knife, food processor or spiralizer.
IN a large bowl, combine the milk, garlic, onion, herbs, ½ of the Parmesan, ½ teaspoon salt and pepper. Add the squash and toss to coat. Spray a medium oven-safe casserole dish with cooking spray. Transfer squash mixture to casserole dish and set aside.
IN a medium microwave safe bowl, melt butter. Add breadcrumbs, remaining Parmesan, ¼ teaspoon salt, and pepper. Evenly spread breadcrumb mixture over squash, cover with foil and bake for 45 minutes. Uncover and broil 2-3 minutes to brown top (watch carefully because it browns quickly!)
Inspiration: Roast Turkey with Sage & Clementine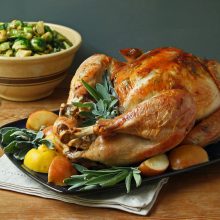 Turkey is a versatile, nutritious, lean protein choice to include in your regular meal planning. This time of year you'll find it on sale and if you have space in your freezer it's an excellent time to buy more than one.
Ingredients: (Serves 6 with ++ leftovers)
1 x 12 lb. turkey
125 g unsalted butter
1 clementine
1⁄2 a bunch of fresh woody herbs, such as bay, sage, rosemary
2 onions
2 sticks of celery
2 carrots
Directions.
When buying a turkey just remember "a pound per person" and you'll be set. This will give you leftovers, but also ensure you have enough.
First tip – Take turkey out of the fridge 1 hour in advance of roasting so it can come up to room temperature. Check the main cavity for the bag of giblets, and add to roasting tray.
Using your hands, rub butter all over the bird, getting into all the nooks and crannies, then sprinkle with salt and black pepper.
Halve the clementine and place in the main cavity with the fresh herbs, and onion – don't want to pack it full as you want to allow hot air to circulate.
Roughly chop the vegetables and add to roasting tray. Add Turkey and cover with tin foil.
Preheat the oven to 350oF. Turkey is cooked when the meat thermometer reads 170°F (77°C) for an unstuffed turkey, or 180°F (82°C) for a stuffed turkey and the juices run clear. For cooking timetable visit here.
Remember to roast uncovered for last 30-60 minutes. This will ensure a crispy, golden-brown turkey.
Remove turkey from oven and allow bird to rest, juices to redistribute for 30 minutes before craving.
CARVE and enjoy with homemade gravy and cranberry-chia compote.
Inspiration: Candied (Broiled) Grapefruit with Ginger Cookies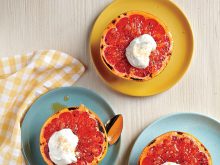 Tart and tangy with an underlying sweetness, grapefruit has a juiciness that rivals that of the ever popular orange and sparkles with many of the same health promoting benefits. They are in season and at their best from winter through early spring. The rich pink and red colors of grapefruit are due to lycopene, a carotenoid phytonutrient. Enjoy this super simple recipe as a dessert, or festive addition to your brunch menu.
Ingredients:
2 large ruby red grapefruit, halved
1/4 cup turbinado sugar or any sugar on-hand
2 teaspoons finely chopped crystallized ginger (optional)
1/3 cup Greek yogurt
1/4 teaspoon vanilla extract
Directions:
PREHEAT broiler to high.
PLACE grapefruit halves on a baking sheet, cut side up. Sprinkle evenly with sugar and ginger. Broil 8 minutes or until grapefruit begins to char.
TOP grapefruit with Greek yogurt and a sprinkle of crystalized ginger, or better still a homemade gingerbread cookie!
Tip #4: Choose Healthy Convenience
Convenience foods are a slippery slope. What seems like a good deal may not provide much in the way of quality nutrition. Limit convenience foods that are high in fat, sugar and sodium. Try your hand at making as many holiday dishes as you can with ingredients you have on-hand.
Choose at least one frozen vegetable to complement your holiday meal. Frozen vegetables are picked and packed at the peak of freshness and are the ultimate time-savers. With minimal effort and cooking, frozen vegetables can help ensure vegetables are the focus of the meal.
I always have frozen vegetables in my freezer. I'm love the Organic PEI Green Bean Medley. If you're selective it is easy to find frozen produce that will keep your wallet and taste buds happy.
Inspiration: Green Beans with Almonds, Lemon & Brown Butter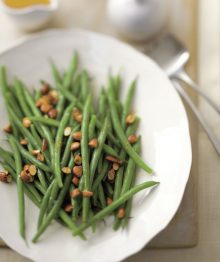 Green beans are a delicious non-starchy vegetable rich in vitamin K, manganese and fiber. They're one of the better vegetables frozen; therefore, an excellent year-round economical food choice. Keep cooking time to a minimum — this will preserve nutrition, color and flavour.
Ingredients: (Makes 6 servings)
1-½ lbs green beans, trimmed. Frozen is an excellent option.
2 tablespoons unsalted butter
1 teaspoons fresh lemon juice
1/3 cup unsalted roasted almonds, chopped
1/4 teaspoon salt
 Directions:
BRING a large pot of salted water to a boil. Add the green beans and cook until just tender, 2-4 minutes. Drain and transfer to a serving bowl.
Meanwhile, brown the butter: Melt the butter in a skillet or small saucepan over medium heat. Swirl or stir the butter with a wooden spoon as it starts to foam and sputter. Remove the butter from the heat as soon as it begins to turn golden brown and smells nutty, about 1 minute.
ADD the lemon juice, almonds, and salt. Swirl skillet over heat for 30 seconds more to toast the almonds. Spoon the mixture over the green beans.
SERVE immediately.
Tip #5: Simply cook. Better yet, cook together.
As I was preparing this meal, together with my family, it occurred to me there's so much joy in being able to cook. Not only that, but it is empowering because when you can prepare your own meal, you can really stretch your food dollars. If you're new to cooking, perhaps organize a potluck dinner, or spend an afternoon with a Grandparent learning the how-to of family recipes.

To you and yours. Happy Everything.
Best,
Emily Mardell, RD
Registered Dietitian
Owner Food First Nutrition Consulting – @FoodFirstRD
Founder GetJoyfull.com – @GetJoyfull