Modernizing Food Labels…
July 17th, 2014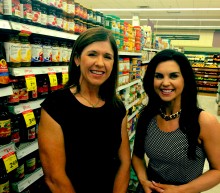 This week my friend Susan Amerongen (@SusanCTV) from CTV Edmonton contacted me to chat about Health Canada's newly proposed changes to food labels.
We took a little jaunt (that's the Newfoundlander in me coming out) to the local IGA to explore and discuss all things labels. We had a great time, and both learned a lot!
To view our CTV Edmonton News segment "Closer look at proposed nutrition labels" click here.
For more information check out the links below:
Related Products
Associated Links
I'd like to know if you read labels? What suggestions if any you have for further improvements?
Thanks!