Make a Date with Medjool (2.0)
February 4th, 2014
Valentine's day is approaching and one of the most romantic things we can do is cook for that special someone. Truth be told, I'm really looking forward to keeping it simple and enjoying a romantic night in this year.
Medjool dates are the biggest, sweetest, most-moist dates in the world. And you can use them in almost any dish – sweet or savoury. They're high in antioxidants and have 6 essential nutrients—and actually have more potassium per serving than bananas. They're also low on the Glycemic Index, which make them a good choice to help keep blood sugar in check.
This year's Valentine's menu is inspired by amazingly delicious Medjool dates. For more ideas and recipes visit www.naturaldelights.ca.
Menu:
Appetizer – Medjool Dates Caramelized Onion Flatbread
Main – Medjool Date, Avocado & Kiwi Salsa
Dessert – Emily's Medjool Date Caramel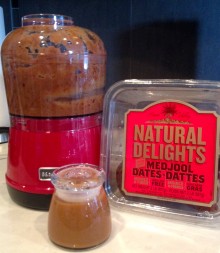 Ingredients:
1 cup Medjool Dates, pitted and halved
½ cup boiling water
¼ cup almond milk
¼ tsp. sea salt
¼ tsp. cinnamon
Seeds of one vanilla bean pod, or 2 tsp. pure vanilla extract
1 tsp. chia seeds (optional, best if using as icing alternative)
Equipment:
Mini food processor
Small airtight container or mason jar
Directions:
In food processor bowl soak Medjool dates in boiling water for 30 minutes, or until extra plump and softened.
Add salt, cinnamon, vanilla and half of almond milk to food processor.
Puree until smooth. Add remaining almond milk until desired consistency is reached.
Store in airtight container for up to one week. Enjoy with fruit, in a Greek yogurt sundae or as a topping for homemade pancakes.
For more tips check out today's CTV Edmonton Morning Live for a full spot on the irresistible Natural Delights® Medjool Dates.