Eat to Glow
June 21st, 2016
Summer's here and healthy skin is in. Check out today's CTV Edmonton Morning Live segment for tips and recipes to nourish your best skin.
Feature Recipes:
Chile-Lime Watermelon Wedges
Rich in lycopene, vitamin C  & H20.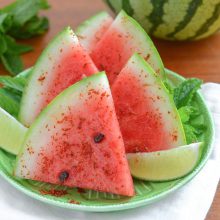 Ingredients:
Seedless watermelon
Chipotle spice, or chile blend of choice
Sea salt
Cilantro, optional
Freshly grated lime zest & juice
Directions:
Prepare watermelon, cut into wedges
Grate fresh lime and cut limes in half to juice later
Spread watermelon on cutting board or serving platter
Sprinkle with seasonings, fresh zest, herbs and juice
Enjoy!
Walnut-Crusted Salmon
Rich in protein, vitamin D & Omega-3s.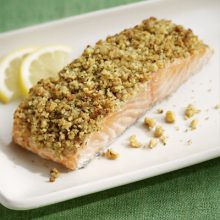 Ingredients:
1 lb. Salmon, boneless
Olive oil, drizzle
Crust:
½ cup unsalted walnuts, pieces
Sea salt
Coarse ground black pepper
Fresh parsley, finely chopped
Red pepper flakes, optional
Directions:
Portion fish, check for bones, pat dry
Drizzle lightly with olive oil
In small baggie, or mini food processor pulse walnuts and remaining ingredients to form a crumble
Coat salmon with walnut crumble mix
Preheat oven to 400
In an oven safe frying pan, on medium-high, pan seer fish, crust side down for 3-5 minutes until golden
Flip salmon and place in oven to finish cooking for 5-8 minutes depending on thickness of fish
Enjoy!
Chocolate-Avocado-Blackberry Mousse
Rich in antioxidants & fiber.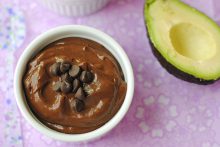 Ingredients:
1 avocado
2 Tbsp. agave syrup
2 Tbsp. unsweetened dark cocoa powder
Blackberries, for garnish
Directions:
Combine ingredients in a food processor and pulse until completely smooth; about 1-2 minutes.
Serve parfait style. Garnish with dark chocolate shavings and blackberries.
Enjoy!
Mousse inspired by The Domestic Geek
Tweet your kitchen antics and creations to @FoodFirstRD.